Conferences
Fall Conference 2020
49th PAC-TE TEACHER EDUCATION ASSEMBLY
Sharpening the Focus of Teacher Preparation
Wednesday, October 28 - October 30, 2020
2020 TEA GOES VIRTUAL
"Sharpening the Focus of Teacher Preparation"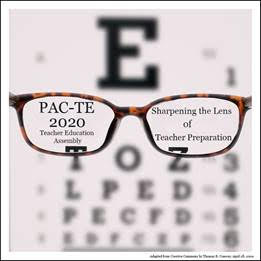 At its June virtual retreat, the PAC-TE Board decided to forego a face-to-face/in-person Teacher Educator Assembly this fall and go VIRTUAL!!! That means that ALL seasons, ALL meetings, and ALL EVERYTHING at the TEA (October 28 - October 30) will be VIRTUAL. After examining several platforms with which to hold the virtual conference, the Board decided to go with "Whova" (see below for information on this platform), the same platform that will be used by ATE (Association of Teacher Educators – one of our national affiliates) for their summer conference. An additional reason that this platform was chosen for the TEA is that it provides opportunities for attendees to network virtually.
With the TEA going VIRTUAL, costs for registration have been GREATLY reduced. The Early Bird registration (June 22 - September 30) will be $100 for members; Regular registration (October 1 - 30) will be $150 for members. There is no Early Bird for non-members and their registration fee is $200. Student registration will be $50. In mid-to-late September, those who have registered will receive access to the "Whova" platform program so they can start planning their days "at the conference." The program will include links to session descriptions and links to the Zoom platform so attendees can view and participate in the presentations for the conference. It is imperative that, to view the sessions and participate, attendees have downloaded the latest/updated Zoom app (https://zoom.us/). Also, as you may know, our journal, The Pennsylvania Teacher Educator, is online at: pac-te.org. The latest edition of the journal, vol. 19, will be available later this summer but for those who want a "hardcopy" of the journal, please check the box on the registration page which will add $10 to your registration, and enter the address where you would like the journal sent.
This venture (virtual conference) marks a new approach for PAC-TE. It is our hope that you will enjoy and be a part of history as our 2020 TEA (Sharpening the Focus of Teacher Education) goes VIRTUAL!!!