Welcome to PAC-TE
PAC-TE is a nonprofit professional association for all those in Pennsylvania who are engaged in the preparation and development of professional educators.
PAC-TE is dedicated to providing strong advocacy for professional educator preparation within the Commonwealth.
The purpose of PAC-TE as the voice for professional educator preparation in Pennsylvania is to promote quality professional educator preparation programs and to provide opportunity for individual professional growth for all persons in Pennsylvania engaged in professional educator preparation.
---
DATES TO KNOW/MARK YOUR CALENDARS
June 1 – November 1 -- Renew your PAC-TE membership and/or the membership of your institution for 2020-2021

October 28 – 30 – 49th Annual Teacher Educator Conference (TEA) -- To register, click here.

---
PA Teacher Educator Now Available
The PAC-TE Journal (a peer-reviewed publication) is now available (including back issues). Please click here for access.
PAC-TE Strategic Plan
The Board of Directors of PAC-TE approved a new strategic plan in April, 2019. PAC-TE's Strategic Plan is organized around four major areas: Administration, Membership Expansion, Expansion Engagement,and Advocacy.
PDE - Act 82 of 2018 Special Education Guidance
Click here for the PDE memo, Initial Guidance on Expanding Special Education Grade Spans.
---
PAC-TE is a state unit of AACTE and ATE
49TH ANNUAL TEACHER EDUCATOR ASSEMBLY
October 28-30, 2020
20/20 SHARPENING THE LENS OF TEACHER PREPARATION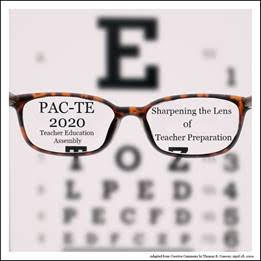 This year's TEA will be the FIRST VIRTUAL TEA, EVER!!! The TEA Planning Committee has put together a GREAT conference and, in addition, attendees will have the opportunity to opt for Act 48 credit for attending presentations (more on that after things are finalized).
The conference program is beginning to finalize (still in draft form, however) and can be viewed in the NEW FORMAT by copying this link into your browser:
https://whova.com/embedded/event/teach1_202010/?utc_source=ems
One of the items that many attendees have requested from past conferences is a "key" to the focus of the sessions. With the Whova app (the conference platform) you will notice (by copying the above link into your browser) that we now have included a "key" word (chosen by the presenter) as to the session's focus.
Welcome messages from our President, Gwen Price, and Conference Chair, Tom Conway are offered here. Please read and enjoy the positive messages while we anticipate our first ever virtual Teacher Education Assembly!!
As you look at the sessions and plan for those you would like to attend, please DON'T FORGET TO REGISTER!!!! Registration until midnight September 30 is $100 for members; and from October 1st through the conference, the registration fee is $150 for members. Non-member registration is $200 with no early bird, and student member registration is $50 (student membership is $20). To join or renew your membership in PAC-TE, click here.
DON'T WAIT!!!! DO IT NOW!!!
---

Candidates for PAC-TE Board

The following are individuals are contesting for open positions (one per heading) on the PAC-TE Board (in alphabetical order):
To Represent Private Institutions:

Sara Rutledge -- Aloysius College,
Kevin Zook -- Holy Family University
To Represent Public Institutions:





Robin Drogan -- Bloomsburg University
Deborah Grubb -- California University of PA
Amy Long -- Lock Haven University
Robert Vaillancourt -- Millersville University
At Large:
Sally Winterton -- West Chester University (retired)
Miriam Witmer -- Millersville University
Treasurer:

Joseph Domaracki -- Indiana University of PA
Please click here to read about each of these candidates
In addition to electing board members and a treasurer, a vote will be taken at the Annual Meeting of PAC-TE during the Teacher Educator Assembly (TEA), Thursday, October 29, at 12:00 PM on a proposal to change the PAC-TE By-Laws to move the voting for members of the board from the month of February to begin at the conclusion of the TEA through November 30 each year.