Welcome to PAC-TE
PAC-TE is a nonprofit professional association for all those in Pennsylvania who are engaged in the preparation and development of professional educators.
PAC-TE is dedicated to providing strong advocacy for professional educator preparation within the Commonwealth.
The purpose of PAC-TE as the voice for professional educator preparation in Pennsylvania is to promote quality professional educator preparation programs and to provide opportunity for individual professional growth for all persons in Pennsylvania engaged in professional educator preparation
---
PAC-TE Strategic Plan
The Board of Directors of PAC-TE approved a new strategic plan in September, 2016. PAC-TE's Strategic Plan is organized around four major areas: Advocacy, Membership, Resources, and Administration.

Quick Resources
PAC-TE is a state unit of AACTE

PAC-TE is a state unit of ATE

The 47th TEA CONFERENCE
SUMMARY
2018 TEA
Was a Spook-tacular Success
With a theme ripped from today's headlines (Democracy and Social Justice: Amplifying the Voices of Teacher Educators), PAC-TE's 47th Annual TEA kicked off on HALLOWEEN and was a ROUSING SUCCESS. Two hundred forty-five attendees heard from/participated in over fifty sessions from colleagues and invited sessions from Senator Andy Dinniman, Secretary of Education Pedro Rivera, Deputy Secondary Noe Ortega, two sessions from PDE, and a Founders' Lecture presentation (sponsored by ETS) by Lynnette Mawhinney. In addition to these sessions/presentations, there were seven collaborative sessions and four division meetings (division notes will be on the PAC-TE website in the near future).
The conference got off to an EXCELLENT start on Wednesday with the Government Relations Committee's session. The speaker for this session was Senator Andy Dinniman (19th District) who is the minority chair of the Pennsylvania Senate's Education Committee. After his session, several attendees were heard remarking: "Why can't there be more senators like Senator Dinniman who understand education?"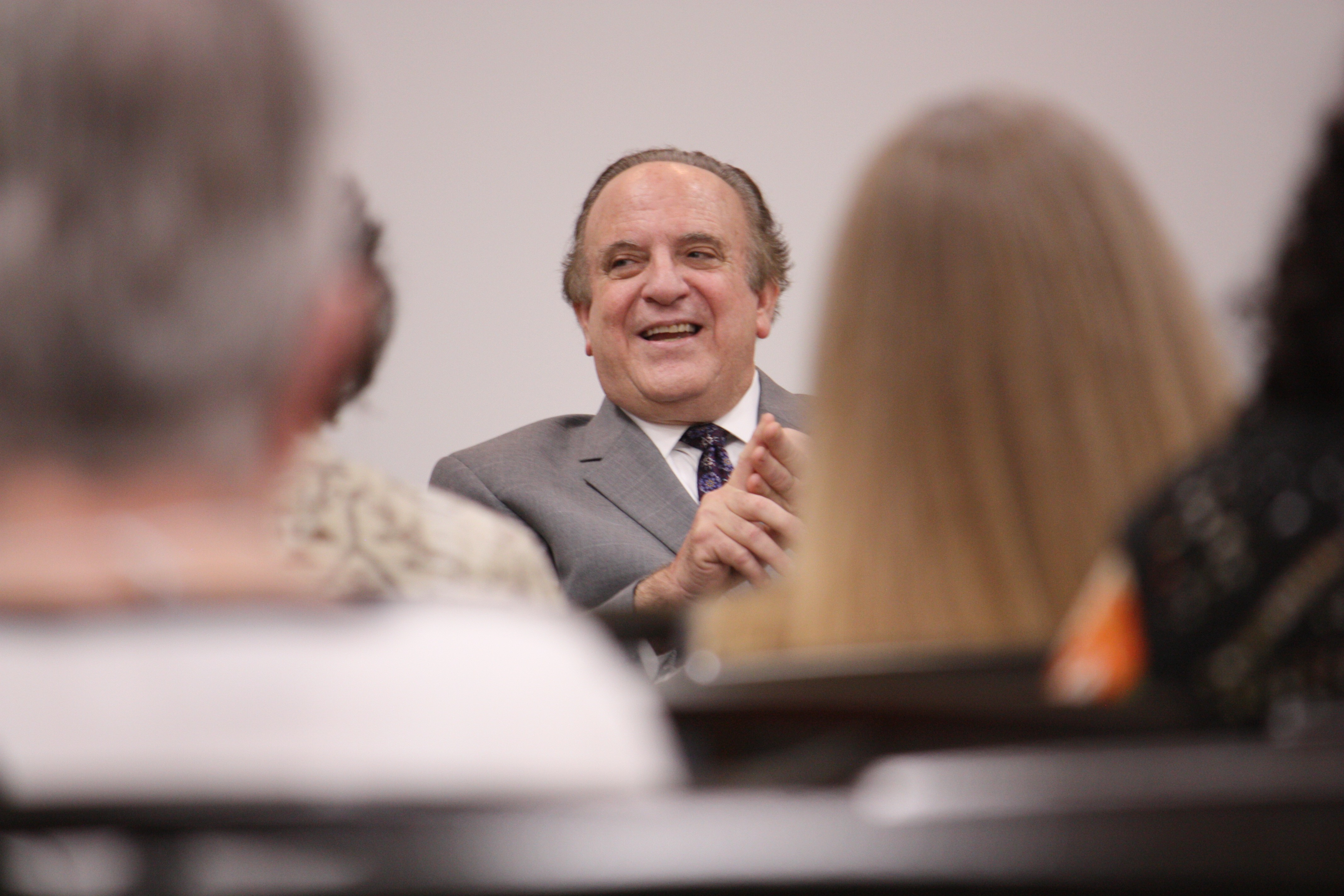 Senator Dinniman talking with attendees
Secretary of Education and Deputy Secretary of Education
PAC-TE was once again fortunate to have both the Secretary of Education, Pedro Rivera, and the Deputy Secretary of Education and Commissioner for Postsecondary Education, Noe Ortega, present at our conference. Secretary Rivera and
Deputy Secretary Ortega presented and answered questions about recent legislation during their combined general session and the impact it will have on teacher certification, especially special education certification.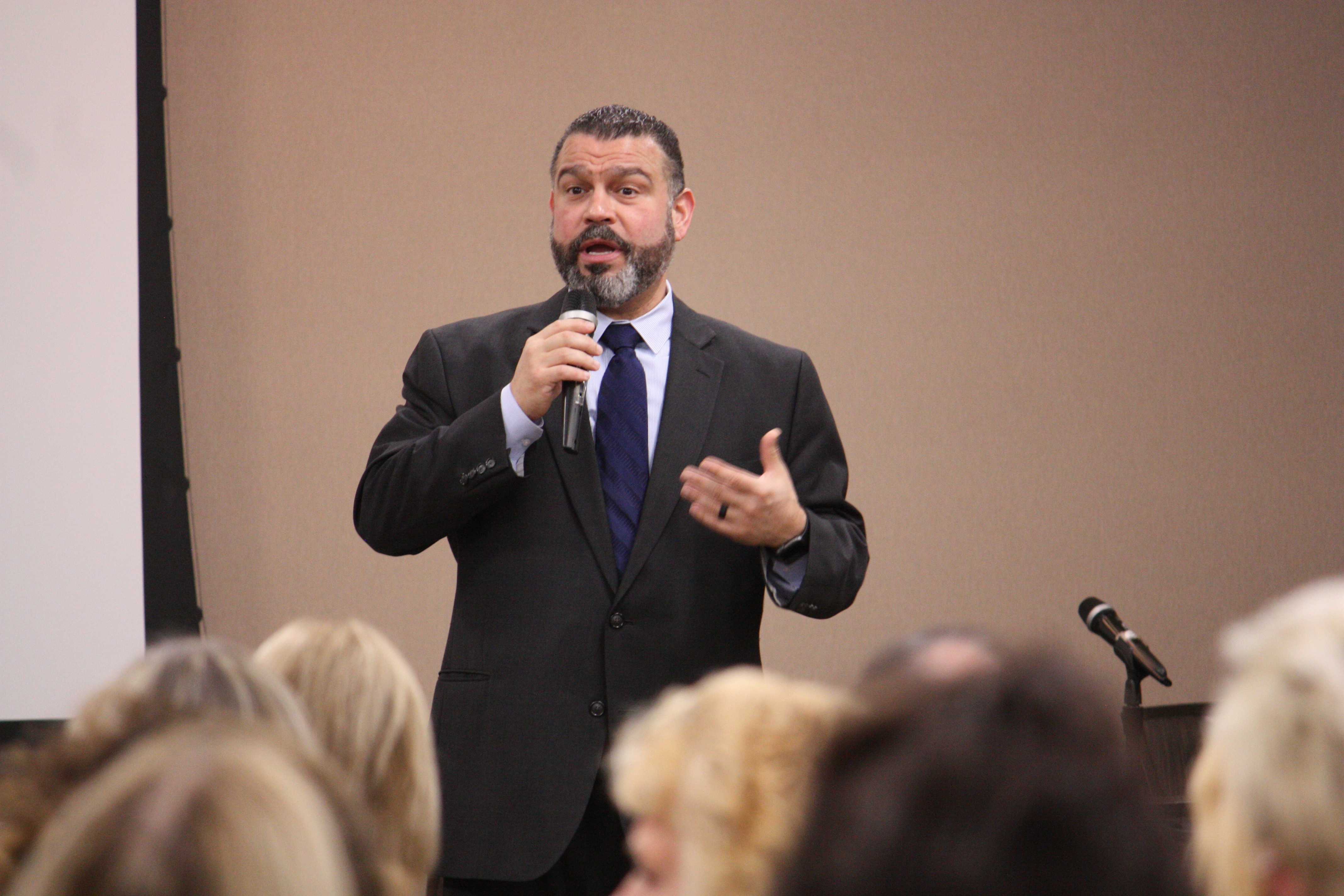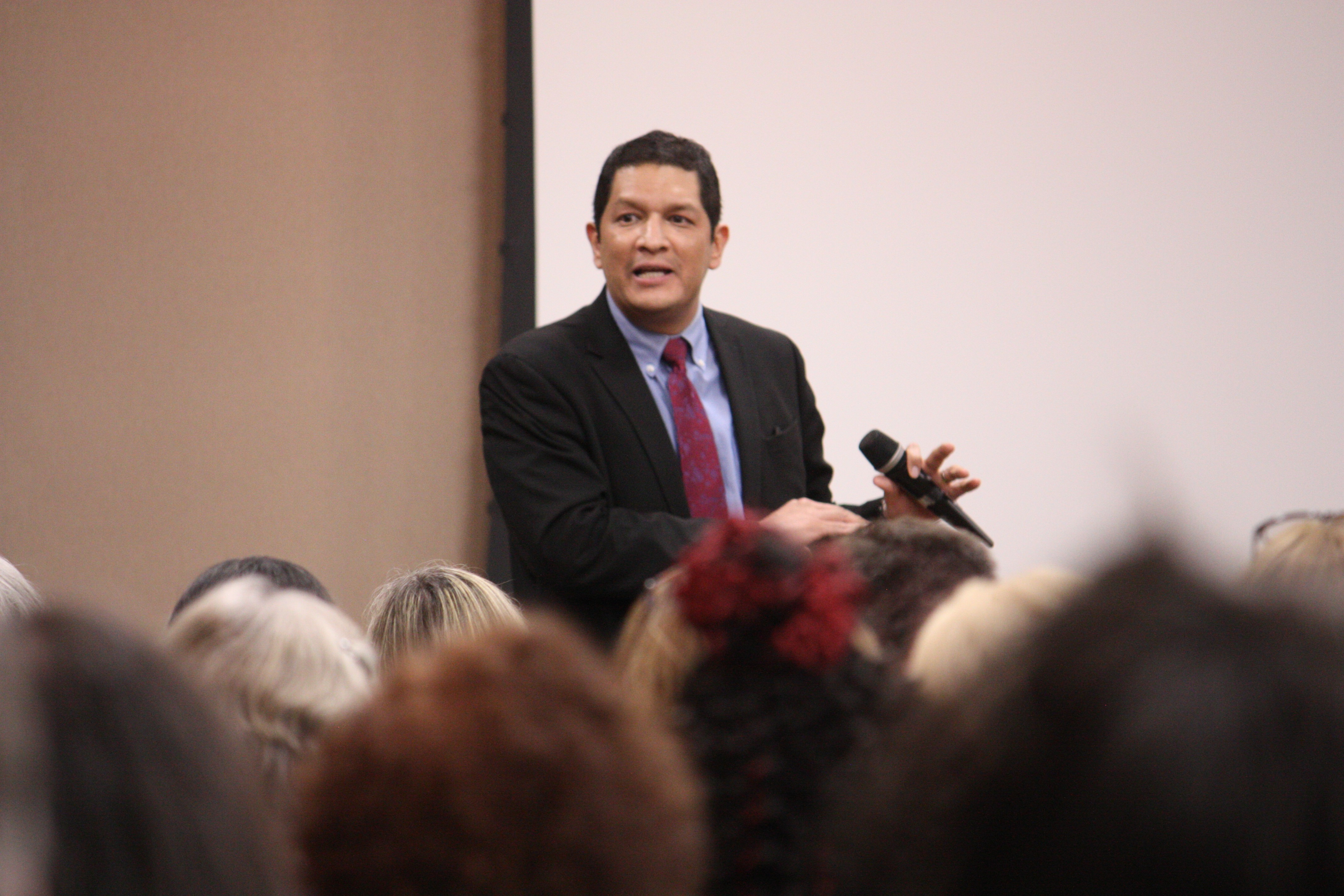 Secretary Rivera Deputy Secretary Ortega
PAC-TE Awards/Presentations
After the session slots were finished for the day, everyone headed to the annual awards presentation and banquet followed by the SCRUMPTIOUS dessert reception. In addition to our annual awards/presentations at the banquet
recognizing retiring board members and, this year, the transfer of our journal and editorship from IUP to SRU, three new awards were made. These new awards were the Professional Achievement Awards in the following categories (their recipients and topics):
Outstanding Dissertation Award -- Mary Higgins
"The Influence of Practitioner Research on Teacher Candidates' Beliefs"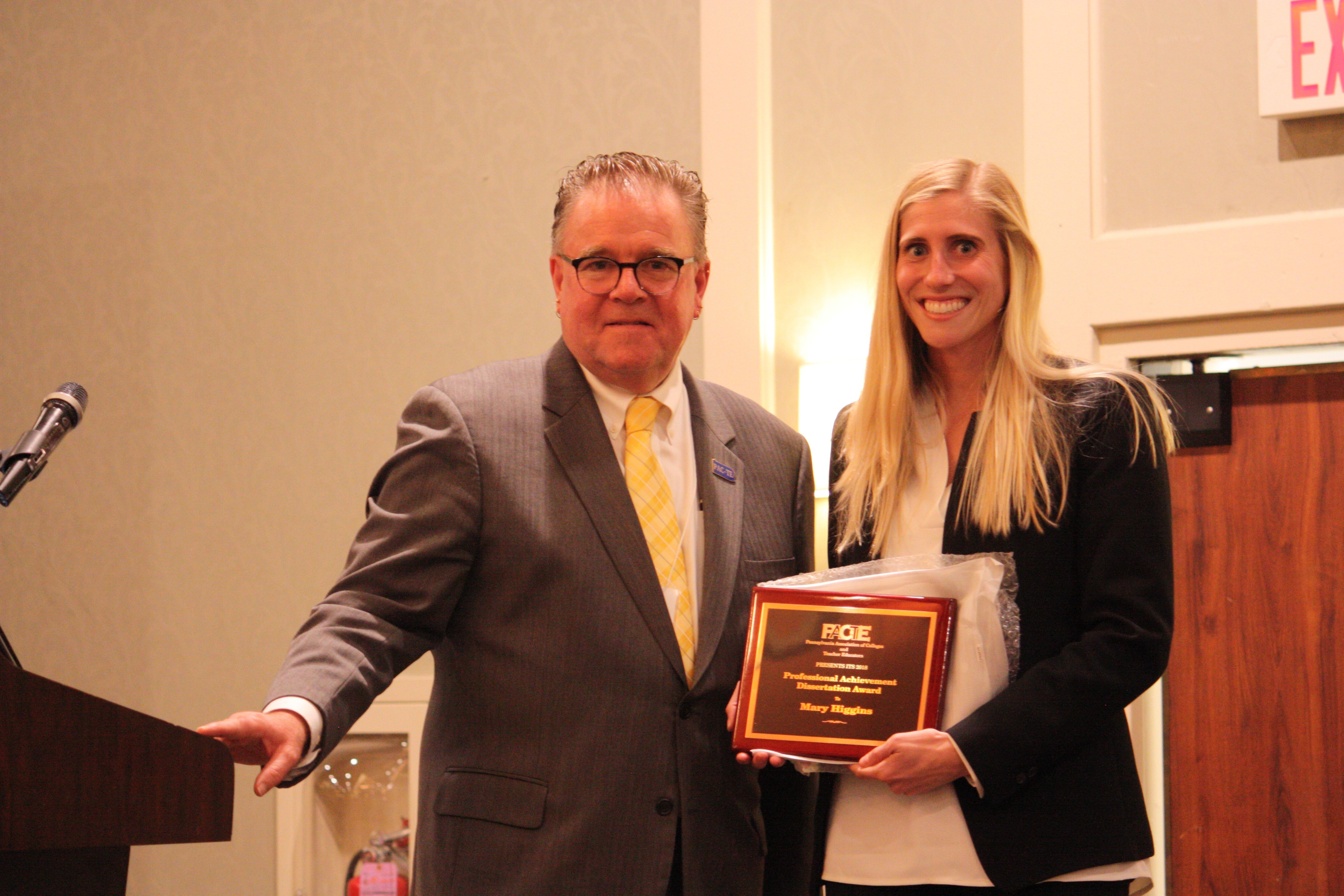 PAC-TE President George Drake and Mary Higgins
Exemplary Service/Partnership Award -- Heather Kenny, Kristin Webber,and Jennifer Stevens
"Preparing for Success: Teacher Candidates Promoting Literacy in an Urban School"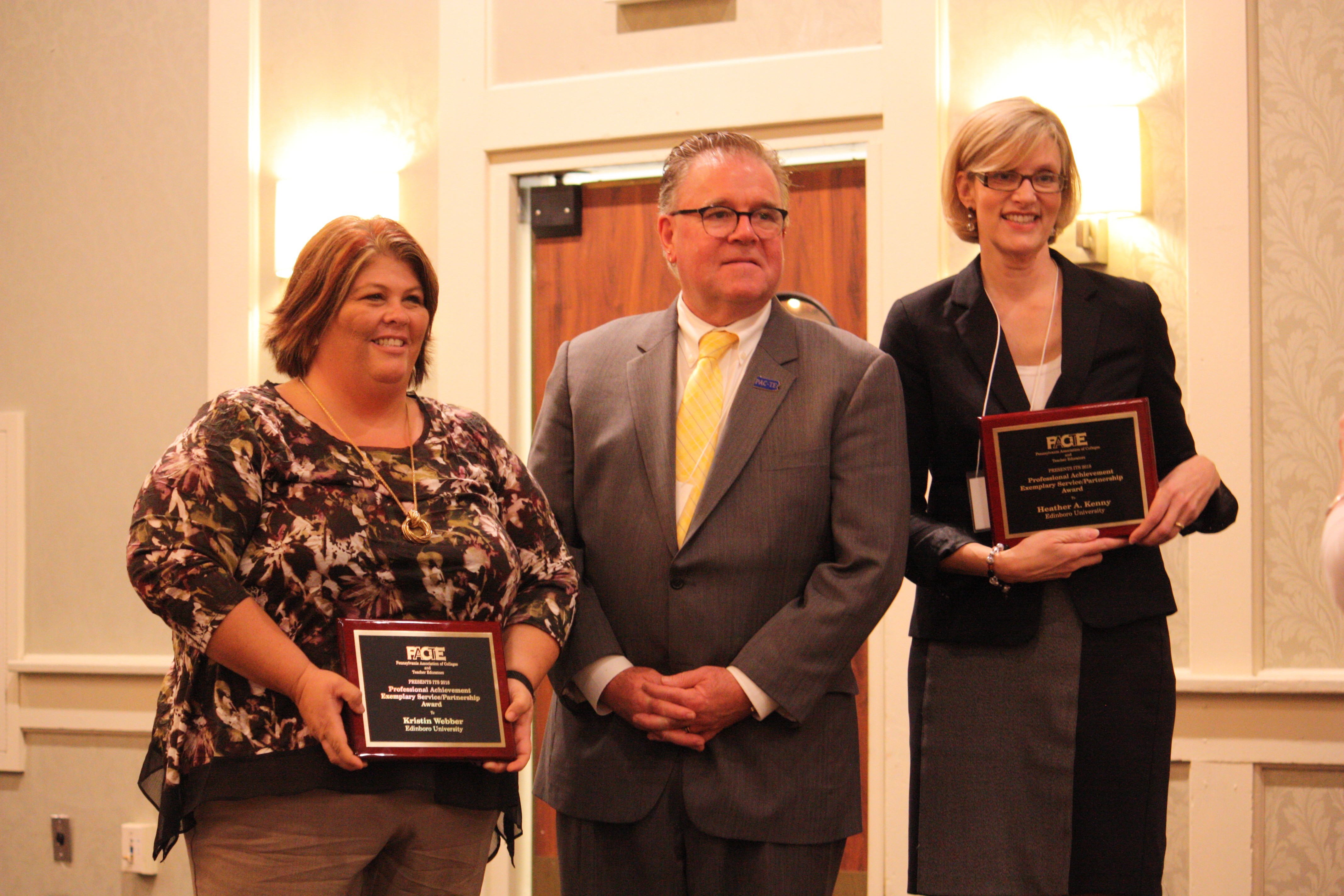 President Drake with Heather Kenny and Kristin Webber (missing -- Jennifer Stevens)
Research Award -- Beth Rogowsky
"Providing Instruction Based on Children's Learning Style Preference Does Not Improve Learning"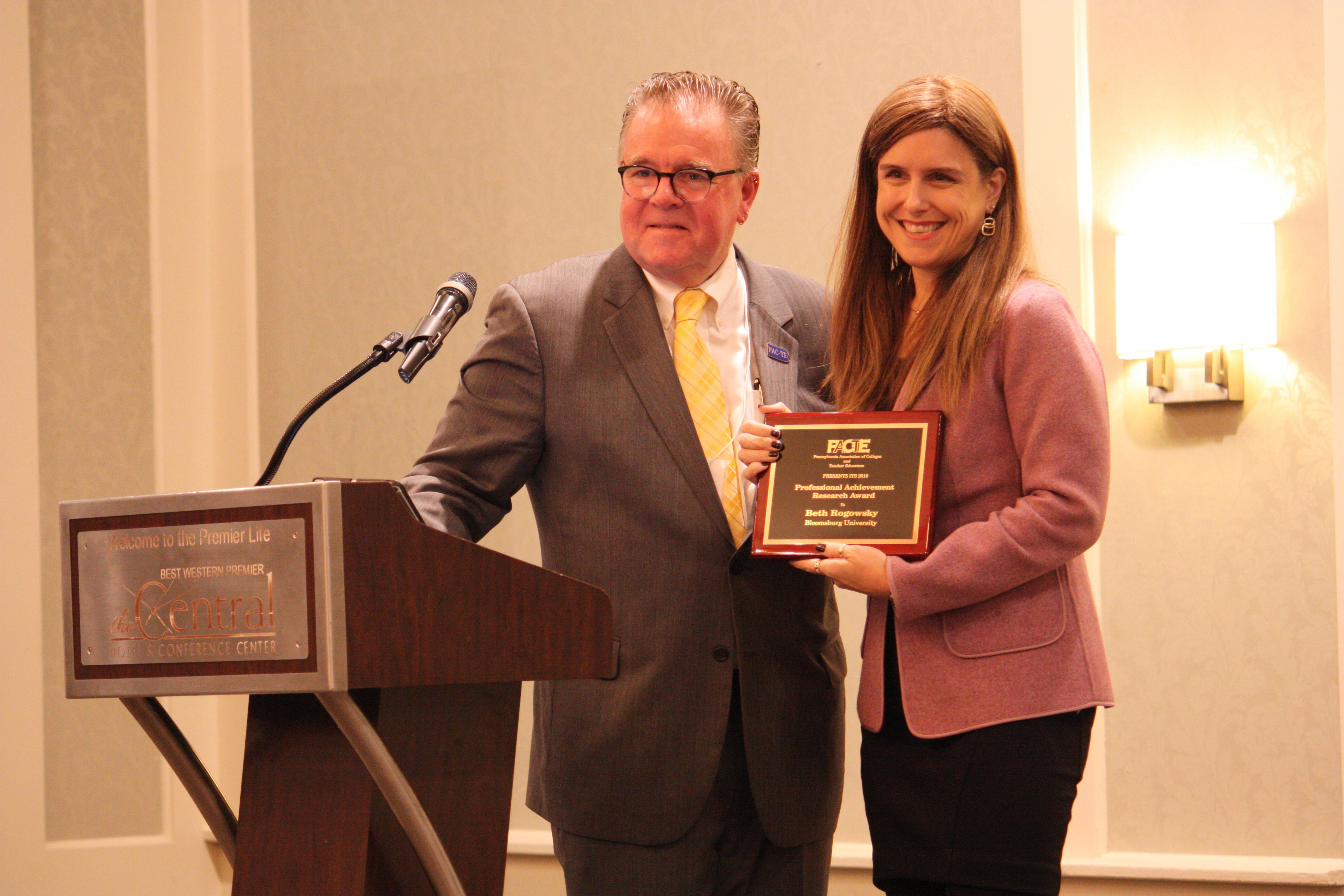 President Drake and Beth Rogowsky
Finally, the evening was topped off with the announcements of the recipients of the Executive Directors' Scholarship, Ms. Joy Boettinger, a 4.0 GPA senior Teacher Education Major at Penn State Harrisburg..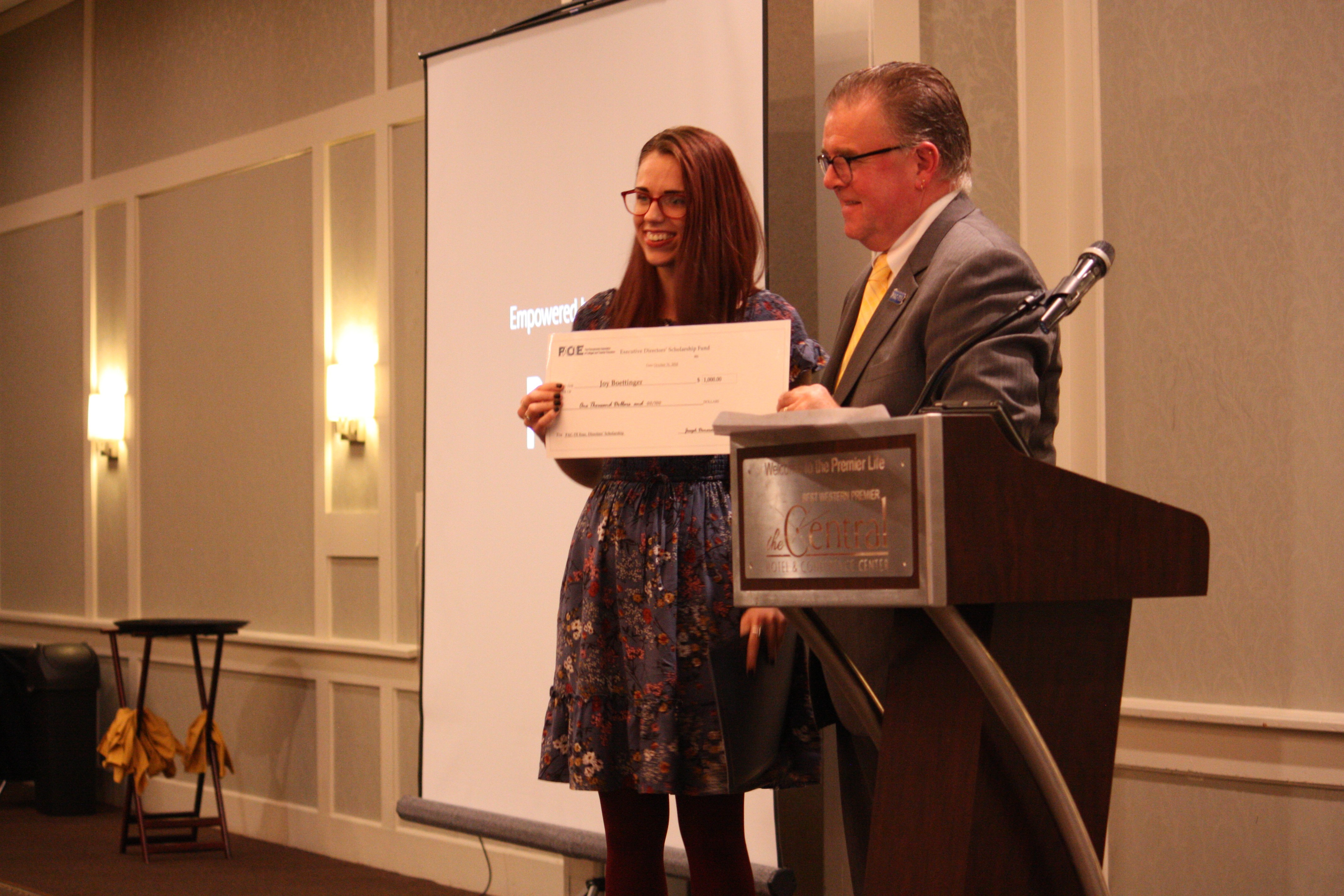 Joy Boettinger with President Drake
and the Teacher Educator of the Year Award, Carol Watson, a member of the Education faculty at Kutztown University.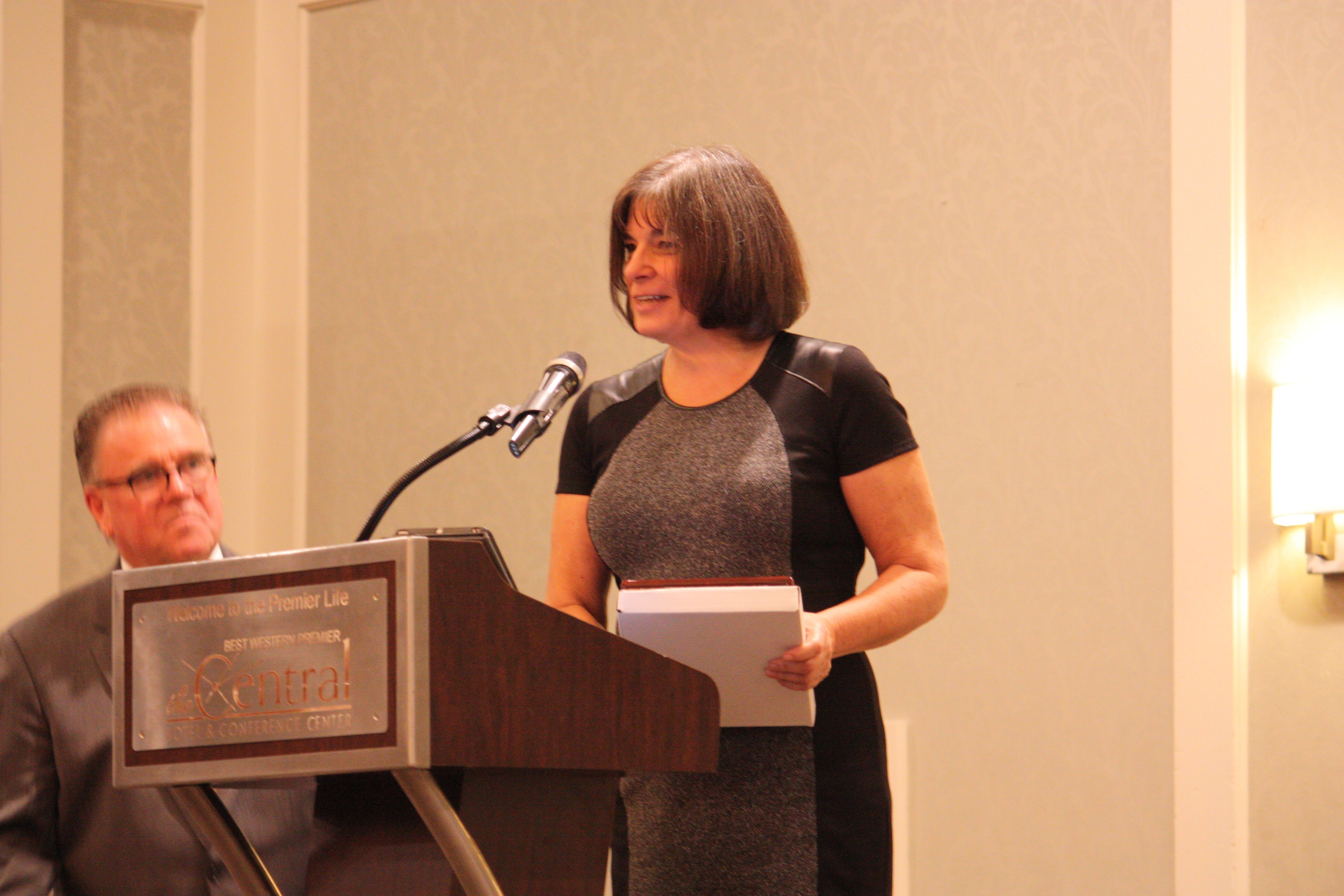 President Drake and Carol Watson
Providing just the "right atmosphere" for our Dessert Reception was the string quartet from Cumberland Valley High School under the direction of Ms. Jennifer Schramm.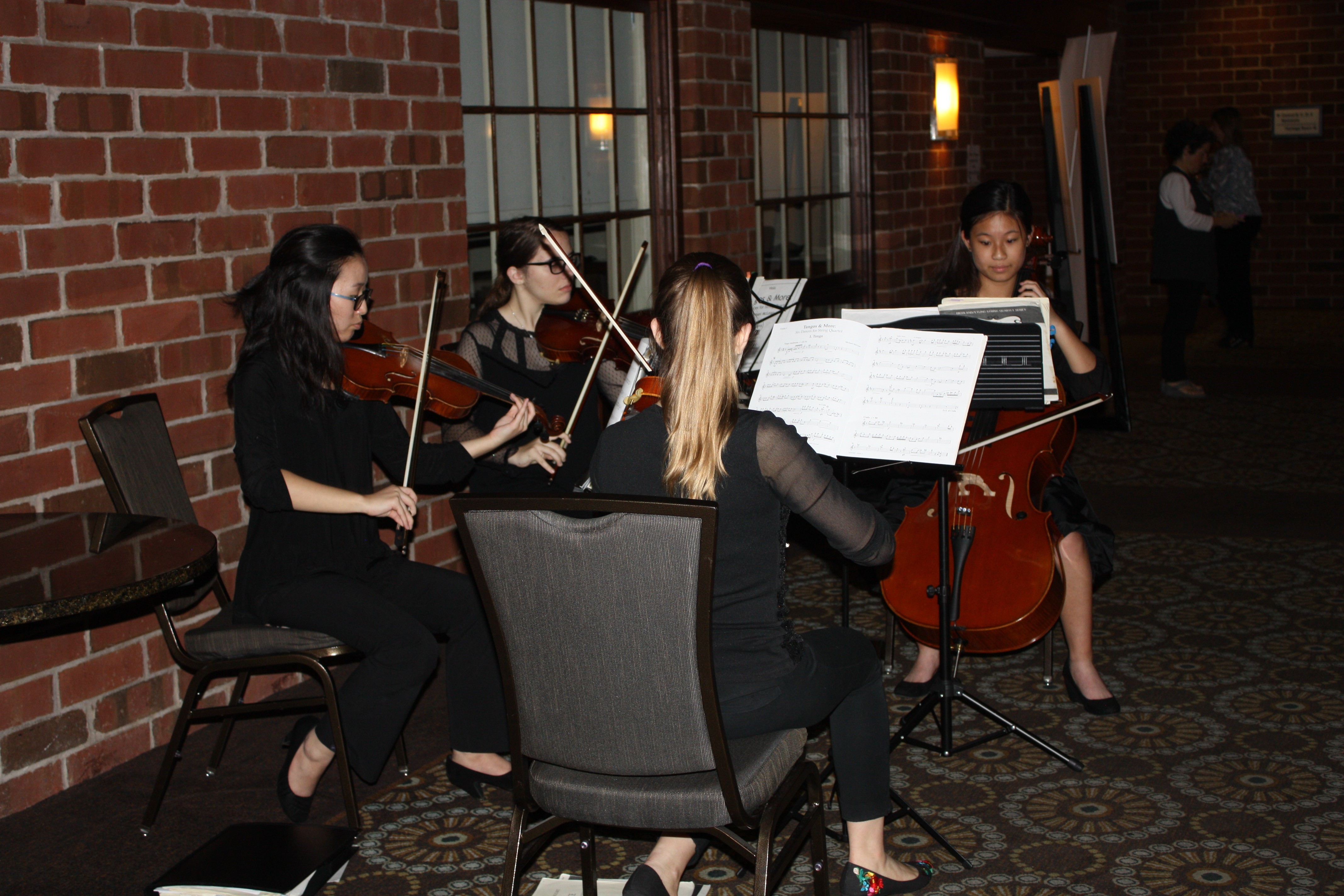 Cumberland Valley High School String Quartet
When Thursday dawned, the conference was in full swing with thirty-four sessions including the second Newcomer session, the second Journal session, a session featuring our School Safety Committee, a graduate/undergraduate research poster session, PAC-TE's Annual Meeting during which a vote was taken on our Board composition, and our second annual ETS sponsored Founders' Lecture.
This year's speaker/keynote for the Lecture was Lynnette Mawhinney, Chair of the Department of Curriculum and Instruction at the University of Illinois, Chicago. The title of Lynnette's keynote, The Missing Voice in Teacher Education: The Role of Minority-Serving Institutions and Teachers of Color, fit perfectly with the overall theme of the conference. Following lunch, Lynnette held a "Fireside Chat" session during which attendees had the opportunity to talk directly with her and dialogue on her topic.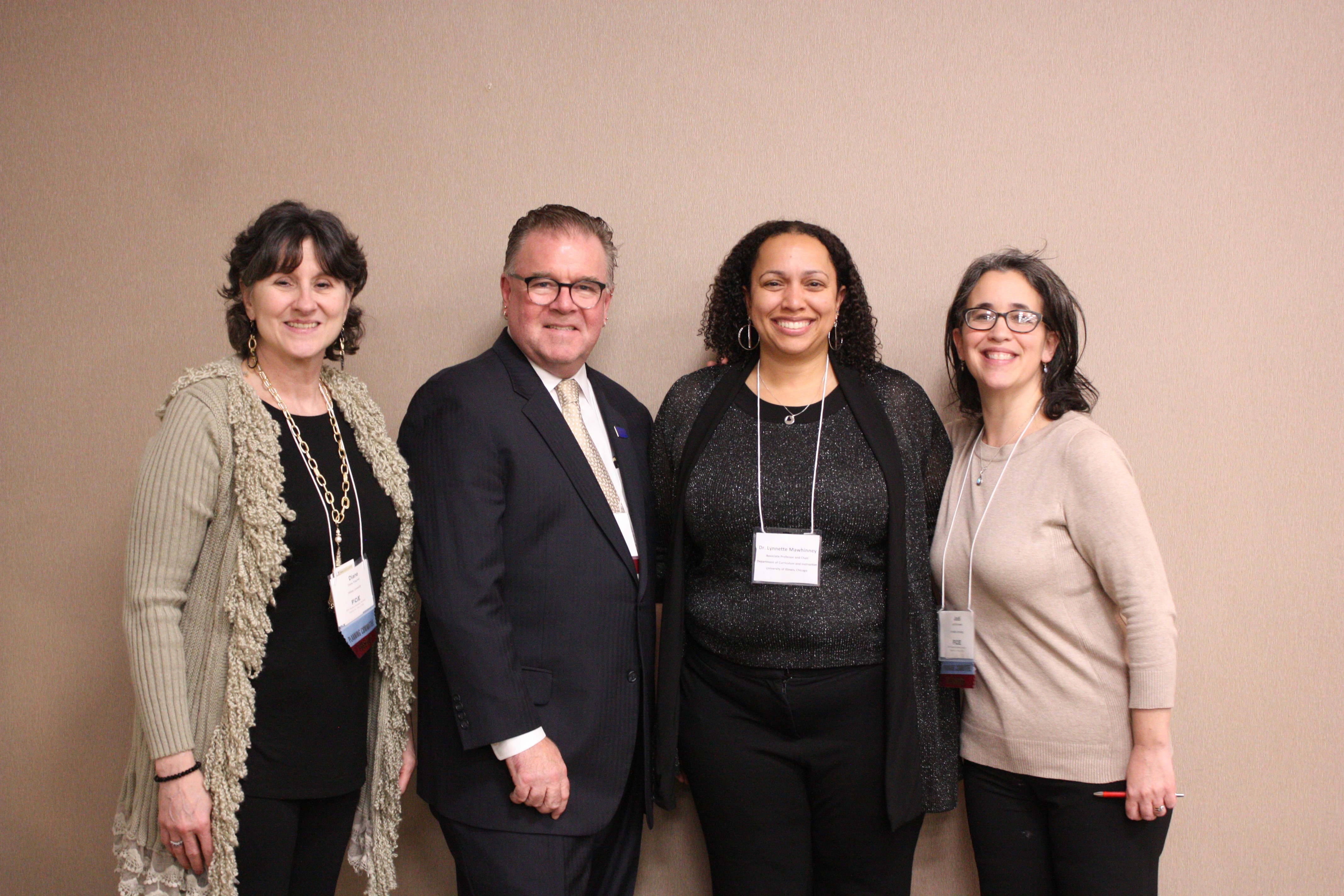 Diane Polachek, 2018 TEA Chair; George Drake, PAC-TE President; Lynnette Mawhinney, Keynoter; Jodi Bornstein, 2018 TEA Co-Chair
Thursday came to a close with a general session with PDE; however, due to Christina Baumer's recent medical issue, Kerry Helm, Stephanie Stauffer, and Jamal Wakeem did the presentations on Thursday and Friday. The presentations on both days focused on Act 82 and its implementation and fielding related questions. With the passage of Act 82 so recently, the folks from PDE noted that many of the requirements have not yet been developed. The three presenters noted that PAC-TE attendees will be provided opportunities to have input as the process continues.
Friday morning saw attendees participate in seven collaboratives with a variety of themes/topics as well as meetings of the four PAC-TE divisions -- Curriculum and Instruction; Learning and Learner Diversity; Clinical Experience and Supervision; and Policy and Program Administration. Following the Division meetings, the final general session was presented by the folks from PDE (for the PowerPoint used during the PDE presentation, please check our homepage).
The 2018 TEA concluded with drawings for various prizes including: free registration to the 2019 TEA won by Michele Brague from Misericordia, free registration to the 2019 spring conference won by Desiree Caldwell from Gwynedd Mercy, and several Visa Cash Cards were given to those who completed and turned in their evaluations.
DON'T FORGET TO SAVE THE DATES:
2019 TEA OCTOBER 23-25, 2019 - BEST WESTERN PREMIER
SPRING CONFERENCE APRIL 9, 2019 - PENN STATER CONFERENCE CENTER