Welcome to PAC-TE
PAC-TE is a nonprofit professional association for all those in Pennsylvania who are engaged in the preparation and development of professional educators.
PAC-TE is dedicated to providing strong advocacy for professional educator preparation within the Commonwealth.
The purpose of PAC-TE as the voice for professional educator preparation in Pennsylvania is to promote quality professional educator preparation programs and to provide opportunity for individual professional growth for all persons in Pennsylvania engaged in professional educator preparation.
---
DATES TO KNOW/MARK YOUR CALENDARS
June 1 – November 1 -- Renew your PAC-TE membership and/or the membership of your institution for 2020-2021

September 8 – 30 -- submissions open for grad/faculty poster session at the TEA

October 28 – 30 – 49th Annual Teacher Educator Conference (TEA) -- To register, click here.
---
PA Teacher Educator Now Available
The PAC-TE Journal (a peer-reviewed publication) is now available (including back issues). Please click here for access.
PAC-TE Strategic Plan
The Board of Directors of PAC-TE approved a new strategic plan in April, 2019. PAC-TE's Strategic Plan is organized around four major areas: Administration, Membership Expansion, Expansion Engagement,and Advocacy.
PDE - Act 82 of 2018 Special Education Guidance
Click here for the PDE memo, Initial Guidance on Expanding Special Education Grade Spans.
---
PAC-TE is a state unit of AACTE and ATE
2020 TEA GOES VIRTUAL
"Sharpening the Focus of Teacher Preparation"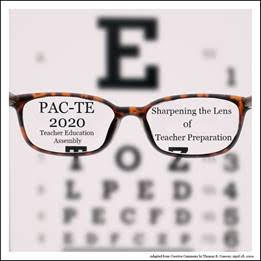 At its June virtual retreat, the PAC-TE Board decided to forego a face-to-face/in-person Teacher Educator Assembly this fall and go VIRTUAL!!! That means that ALL seasons, ALL meetings, and ALL EVERYTHING at the TEA (October 28 - October 30) will be VIRTUAL. After examining several platforms with which to hold the virtual conference, the Board decided to go with "Whova" (see below for information on this platform), the same platform that will be used by ATE (Association of Teacher Educators – one of our national affiliates) for their summer conference. An additional reason that this platform was chosen for the TEA is that it provides opportunities for attendees to network virtually.
With the TEA going VIRTUAL, costs for registration have been GREATLY reduced. The Early Bird registration (June 22 - September 30) will be $100 for members; Regular registration (October 1 - 30) will be $150 for members. There is no Early Bird for non-members and their registration fee is $200. Student registration will be $50. To register for the conference, click here.
In mid-to-late September, those who have registered will receive access to the "Whova" platform program so they can start planning their days "at the conference."
The program will include links to session descriptions and links to the Zoom platform so attendees can view and participate in the presentations for the conference. It is imperative that, to view the sessions and participate, attendees have downloaded the latest/updated Zoom app (https://zoom.us/). Also, as you may know, our journal, The Pennsylvania Teacher Educator, is online at: pac-te.org. The latest edition of the journal, vol. 19, will be available later this summer but for those who want a "hardcopy" of the journal, please check the box on the registration page which will add $10 to your registration, and enter the address where you would like the journal sent.
This venture (virtual conference) marks a new approach for PAC-TE. It is our hope that you will enjoy and be a part of history as our 2020 TEA (Sharpening the Focus of Teacher Education) goes VIRTUAL!!!
INFORMATION FROM ETS/PRAXIS
We are pleased to share that ETS is close to introducing a solution that will allow teacher-candidates to take a Praxis exam at home or other secure location while test centers are closed due to Coronavirus (COVID-19). We anticipate that this solution, Praxis at Home, will be available mid-May 2020.
Praxis at Home will offer teacher-candidates the same test and is supported by the same services as the tests offered in test centers. The only difference is that the solution is proctored remotely by a trained specialist through our collaborator ProctorU. ETS is working closely with ProctorU to ensure that testing meets our high standards of accuracy and security.
To serve our teacher-candidates in a efficient manner, we will release the most frequently adopted tests first and add to the offerings quickly over the weeks ahead. At this time, our priority is to serve your teacher-candidates so they can earn their certifications and be ready for the classroom this fall. We will continue to support test centers and look forward to working with them to safely reopen as the crisis subsides.
We will be in touch with more information on the solution in the coming weeks. For additional updates, please visit the ETS Testing Updates webpage. We hope that you, your staff, your family and your friends remain well.
Thank you.
ETS Professional Educator Programs